Published May 2019 on WhatcomTalk.com
For 103 years, the Indianapolis 500 has gone hand-in-hand with Memorial Day. The world's fastest oval-track race is an event steeped in tradition, pageantry and danger, and has remained among the most prestigious auto races in the world since its inaugural running in 1911.
In the previous 102 editions of the race, 72 drivers have gone to Victory Lane. Hundreds more have tried – and died – in pursuit of that same goal. And of those hundreds of competitors, from countries across the globe, only one has come from Whatcom County.
His name was William Raymond Pixley.
From Lynden to Los Angeles
William Pixley – or Ray, as he'd come to be known – was born in Bellingham on February 1, 1907, the second son of Lynden's Walter and Bessie Pixley. There isn't much known about Pixley's childhood, but archived issues of the Lynden Tribune provide glances.
Ray's father was Lynden Water District superintendent for a time, and also owned the Lynden Welding and Manufacturing Company; frequent 1920s Tribune ads suggest readers "Let Pixley Fix It." Ray's father also operated a popular local dance hall. His mother, a homemaker, once attended a state conference of the Women's Christian Temperance League.
The first mention of Ray occurs in the July 21, 1919 issue of the Tribune, in which it's noted he constructed a fine wooden model of an American warplane. In the ensuing years, other mentions appear: Ray's freehand-drawn map of Africa received the most votes in the seventh grade; he finished second in a seventh grade essay contest; he was a Boy Scout patrol assistant. As a high school freshman, Pixley was a glee club member who played a singing pirate in a production called Love Pirates of Hawaii.
Perhaps the most amusing anecdote comes from a front page brief in the December 7, 1922 Tribune, with the headline "Pixley Has Fingers Smashed by School Door." The two-sentence story notes three fingers were "badly mashed," with a nail torn from one finger.
Pixley graduated from Lynden High School in 1926, and three years later, moved to Southern California. He found work as an electric welder in the oil fields and, at some point, began racing open-wheel racecars on an old dirt track between Newport and Huntington Beaches.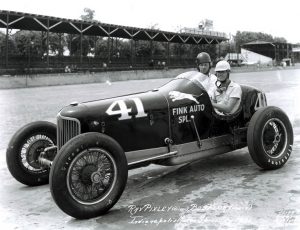 Soon, he was running at bigger and faster Los Angeles area racetracks like Ascot, Burbank and Fullerton, finishing well and getting noticed. A May 1933 LA Times article notes Pixley won a 25-lap main event at Burbank, re-setting the track record three times in one day. By 1935, Pixley was making a solid name for himself. That May, he won a race at Ascot. At a July race at the same track, Pixley escaped serious injury when his car burst into flames. Overall, he finished the 1935 season among the West Coast's best drivers.
By 1936, the Midwest beckoned. Like several peers before him, Pixley left California. And for the first time in his racing career, he wasn't working a day job, focusing his energy solely on the track. That spring, Pixley landed an Indianapolis 500 ride, driving Clarence Felker's #41 Fink Auto Special. The car would have the engine Rex Mays had used to win the pole the previous year. Things were looking up.
The Monster in the Turns
Racing has been, and always will be, a dangerous activity. Today, drivers at Indy turn laps around the 2.5-mile oval at average speeds nearing 230 mph, meaning top speeds reached at various points on-track are even faster. They endure intense G-forces and the chance their cars, in the right situations, can become airborne projectiles.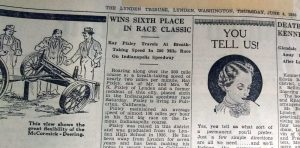 Still, drivers endure these factors with advanced safety technology, both inside and outside their cars. They wear fire-protectant uniforms, multi-point seatbelt harnesses, head-and-neck restraints, and sit in carbon fiber chassis that remain intact in the most violent crashes. They have roll hoops behind their heads to keep them off the pavement in rollovers. And when they do hit a wall, those walls are made with steel-and-foam barriers that reduce impact energy.
In Pixley's day, none of that existed. At speeds of up to 125 mph, racers sat well-exposed in cockpits wearing poorly made, open-face helmets – kept on their heads by leather chinstraps – that did little more than deflect rocks. Some drivers wore polo helmets. Drivers had rudimentary seatbelts, wore glass eye goggles, and sometimes drove wearing just t-shirts. And many tracks, including Indy, had little to no fencing to keep cars from exiting the track if they climbed over walls or guardrails.
It sounds insane. But back then, explains Indianapolis Motor Speedway historian Donald Davidson, it was simply the way it was.
"Drivers accepted that danger," he says. "There was very much a fighter pilot's mentality, I think. They were aware of it, because it was around them all the time, but they never thought it would happen to them."
But it did happen to them, and often. Between 1911 and 1936, 12 drivers died at the Indy 500, along with nine riding mechanics and two spectators. The 1930s was the deadliest decade of all at Indy: 23 people died, including five in a three-day span in 1933. Drivers who survived the 500 were often injured, or worse, at tracks across the country. Of the 33 starters of the 1936 Indy 500, 12 would eventually die in racing accidents. At Ascot Speedway, where Pixley raced, 23 drivers died between 1924 and 1936.
Despite often being a blood sport, Davidson says the danger never deterred those who felt racing was their calling.
"That's how they earned their living," he says. "Nobody made them. They were driven to succeed, and it wasn't about the money. When you're in the final laps, you're not thinking about money. You're thinking about winning. It's about the competition, and being the best."
The Month of May
The 1936 Indy 500 is remembered for beginning three race traditions. It introduced the Borg-Warner winner's trophy, gave the race winner the pace car and, most famously, began the drinking of milk in Victory Lane. The racetrack also saw changes in 1936, with the introduction of asphalt. Patches of the material were added to rough spots in the turns, but overall the racing surface remained in its iconic brick state.
On a windy day a week before the race, Ray Pixley was one of the last drivers to qualify for the 500. With an average speed of 116.703 mph and a best lap of nearly 118 mph, he ran good enough to obtain the 25th starting position. During the race on May 30, Pixley – along with riding mechanic Bob Flory, who checked gauges and informed his driver of traffic – slowly worked their way through the field.
Pixley stopped for fuel on the race's 70th and 135th laps, running an economical pace in a year when fuel usage was limited to 37.5 gallons per car. Pixley ran between 9th and 10th most of the race's second half, but in the final 10 laps, gained several positions when multiple drivers ran out of fuel. He crossed the finish line in 6th place, completing all 200 laps and earning $2,238. Louis Meyer won the race, becoming the first three-time Indy 500 champion. In Victory Lane, he drank buttermilk.
The Indy finish improved Pixley's recognition, as he earned national points towards the AAA National Automobile Racing Championship. He also joined the prestigious Champion 100-MPH Club, open to Indy drivers who completed the entire 500 miles at an average pace above 100 mph, without aid of a relief driver.
Pixley ran races around the country during the summer of 1936, from New York to California. In late August, he was scheduled to compete at Roby Speedway, a 1-mile dirt oval in Hammond, Indiana, along with former Indy 500 winner Wilbur Shaw. Pixley entered the event ranked 7th in national points. His racing career was the best it had ever been. But tragically, it was about to come to an end.
One Last Ride
What exactly happened to cause Ray Pixley's accident isn't clear, but the end result is the same. It was Sunday, August 30, 1936, on the eighth lap of a 10-lap qualifying race in front of nearly 20,000 spectators. Pixley was running sixth when he lost control of his car.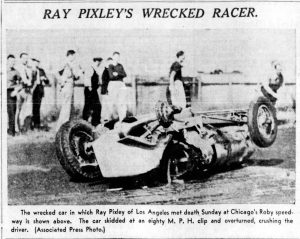 According to newspaper reports, he brushed a guardrail and collided with the car of George Connor. Pixley's car dug into the track surface and flipped multiple times, throwing him from the vehicle before it landed, upside down, on top of him. With numerous internal injuries, Pixley was taken by ambulance to nearby St. Margret's Hospital. By the time he got there he was dead, five months shy of his 30th birthday.
Pixley was the sixth and final driver to die at Roby, but the entry he perished in raced there again just three weeks later. With Pixley's friend George Connor behind the wheel, the car again overturned, seriously injuring Connor. That race would be the track's last, as another incident during the race injured several spectators.
The day after Pixley's death, his body began a final ride home. On a sunny, 76-degree day in early September, his well-attended funeral was held at Gillies Funeral Home before a burial in the Lynden Cemetery, where he remains today beside his parents. On his headstone, between his years of birth and death, is a small image of a race car.
In trying to trace Ray Pixley's lineage, mostly in the hope of speaking to a living relative about him, I found a phone number for Pixley's niece. She's an octogenarian living in Okanogan, Washington. The phone connection wasn't stellar, and all she had to say was that her father – Ray's brother – never spoke much about him. This reason for not speaking of him, I was told by a great niece through Facebook, likely resulted from Pixley's marriage to a woman the family didn't approve of.
There is a lot more I don't know, and wish I did, about the life of Ray Pixley. Trying to create a complete and accurate story from non-recent history, after all, is difficult. But when I watch the Indy 500 this weekend, I will think of Ray Pixley – the lone connection between Indy and my home county – and his long-ago drive to succeed.