Published May 2019 on WhatcomTalk.com
Jason Quick has juggled chainsaws, flaming torches, bowling balls and rubber chickens. The 47-year-old Bellingham resident has several college degrees, is working on another, and was once on "America's Got Talent." He rode to the interview for this story on a unicycle.
All this would be impressive for anyone. It takes skill, persistence and work ethic to accomplish what Quick has accomplished in his life. And yet it's made all the more impressive by the fact that Quick—who is studying at Western Washington University to become a science teacher—is missing his right arm.
The reason for his missing arm has nothing to do with juggling, but the fact Quick juggles has everything to do with his missing arm.
"Hard work and determination can overcome a lot of difficulties and barriers," he says, sitting at a wooden picnic table on a sunny spring day. "A lot of people think that because I don't have an arm – there are so many things I can't do – it's a sad, sad thing. And it can be. But at the same time, I've figured out how to do so many things that I don't feel like I'm less than, or damaged, or diminished. I've got some things that are hard for me still, emotionally, but don't we all?"
The Accident
Quick was born in the Vancouver, Washington area, and moved to Bellingham with his mother so she could attend Western. One day, when he was 6, a kid in his neighborhood made Quick a dare, and he took it. Quick climbed into an electrical substation and grabbed a high-voltage line. Electricity coursed through his body, stopping his heart.
Quick might not have lived but for several lucky breaks. First, he fell face-first onto the ground, an impact that restarted his heart. Second, the substation was next to a fire station, helping paramedics respond almost immediately. Quick was taken to Seattle's Harborview Medical Center, but the damage was done: his right arm was badly burned, charred black by the electricity that exited his body. His right leg was also severely scarred. The leg remained, but the arm was amputated. Even today, on his remaining hand, there is noticeable scarring.
After recuperating at Children's Hospital in Seattle, Quick returned to a life that wasn't quite as normal anymore. Adapting to daily life with one arm, he says, was challenging.
"It was difficult to be the only one-armed kid," he says. "It was difficult to figure out how to do things, and very frustrating at times to figure out how to make my bed, tie my shoes."
Quick, right-handed before the accident, had to learn to write with his left hand. Over time, he adjusted to his changed circumstances, even as frustrations and limitations lingered. Then one day, juggling entered the picture.
Juggling for Joy
At age 10, Quick's grandfather gave him some tennis balls and a unicycle he'd bought at a garage sale.
"He showed that he could juggle two balls with one hand, and that he could ride the unicycle," Quick recalls. "Then he said, 'Figure it out.'"
His grandfather thought the challenge would be good for his grandson, and that summer, through trial and error, Quick learned juggling and unicycle. He enjoyed it, and whenever he'd play tennis or baseball and had a moment, he'd start juggling the balls.
"It was just this thing that made me feel good," he says. "It was like, 'Oh, I can do more than I thought.'"
Quick found it satisfying to know that if he worked really hard at something, he could figure out how to do it with just one arm.
"It turned into a thing where I'm more able than most two-handed people, in a way," he says. "In some ways, being one-handed is a pain, often. But, by working on it, and being committed to figuring out how to do things, I was able to kind of challenge that 'disabled' notion, and do things that were interesting to me."
After graduating from Camas High School, Quick moved back to Bellingham in 1993, to attend Western. For the next decade, he pursued dual paths: professional juggling and teaching. At Western, he ran a juggling club. He performed at numerous school assemblies, exciting children by juggling increasingly dangerous objects, each connecting to a metaphor. For a while, his final act was juggling flaming torches on a slack rope. The fire was a stand-in for igniting motivation.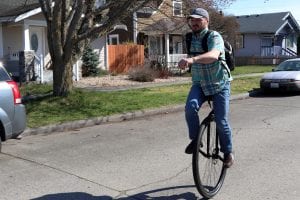 "There's more that you can do than you might think you can do," he says. "And the way to figure that out is to work really hard at things."
Quick has taught preschool, kindergarten, gymnastics and physical education, mostly at private schools. He's also taught circus arts, both at Whatcom County Montessori schools, and at a school in Seattle. Because he didn't have much money while teaching circus arts, he improvised. Over the years, Quick hand-built his equipment: an aerial tent, a tightrope, a trapeze; a hand bar assist for unicycle training.
In 1999, he also began volunteering at Camp Willie, a summer grief camp for school-aged children who've lost a parent, guardian, close friend of family member. The camp is held the last week of June each year on the grounds of Campfire USA's Camp Killoqua, and was founded by a Bellingham mental health counselor. Nearly half the camp's children usually come from Whatcom County.
Working with children experiencing grief, and seeing how counselors helped them, led Quick to re-enter school a year after completing an undergrad biology degree in 2004. He earned an applied behavioral science degree, became a local counselor, and also helped lead support groups at the camp. Today, he's co-director of the camp, and focuses on a community art project involving all the children that represents healing through grief. Again, Quick learned new skills, including welding, to introduce new types of artwork each year.
During season six of the reality TV show "America's Got Talent," he was recruited by producers as a quality act – someone who was already professional to round out the show's talent pool. He passed an audition in Tacoma and was flown to Las Vegas, but didn't advance past that round. Quick is okay with it, though: he doesn't like Vegas and also wanted to stay close to his daughter, who's 24 and lives in Ferndale.
Currently busy with earning a master's of teaching degree at Western, Quick plans to teach secondary science education after graduating. He still practices juggling when he has the chance, but hasn't done many shows lately. Still, he's up to do it if a group could benefit from his story and its message. Especially the part where he juggles a knife and a rubber chicken.
"I lost my arm because somebody called me a chicken," he says. "I don't want to lose or ignore that story; I want to use that story to help myself and others learn something."
Quick figures about 100,000 children have seen his juggling act over the past 20 years. He's helped them learn something about life, and how to approach adversity. He's proud of that.
"I've had a really good run," he says. "I feel like anybody who saw the show got to experience some joy and some awe, and got to be invited to think about the world and people differently."