Published September 2021 on WhatcomTalk.com
Last year, on his 28th birthday, Sean Powers made three goals for himself: In the following year, he would 1) quit drinking alcohol, 2) finally try his hand at stand-up comedy, and 3) thru-hike the entire Pacific Crest Trail—some 2,700 miles—from Southern California to the Canadian border.
Now 29, Powers has held steadfast to all three goals, finishing his PCT hike on August 30 and arriving shortly afterward in Bellingham. Powers will remain here for several weeks before headlining two comedy shows—his first true professional stand-up gigs—September 23 and 24 at the Firehouse Arts and Events Center in Fairhaven.
"It might be overdoing it," Powers said jokingly, via telephone a few weeks ago, during a break from hiking. "But that's how low I am on the comedic totem pole: that I have to do these crazy things to get attention."
A Long, Strange Trip
Powers, born in Missouri, grew up in the Minneapolis, Minnesota suburb of Minnetonka. After attending the University of Kansas to study journalism and strategic communications, he moved to Denver in 2014 to work for an ABC affiliate.
But soon after, Powers chose a more adventurous path: he moved to Guatemala and taught high school-level history and economics for three years. In 2017, he moved to Bogota, Colombia and continued his teaching career. In 2020, the COVID-19 pandemic drastically altered his plans.
With harsh, military-patrolled lockdowns implemented in Bogota as the pandemic took hold, Powers said Columbia's capital city all but shut down. Citizens were only allowed outside for groceries.
"It was super surreal," he says. "It was like being in a ghost town when you were outside, but in a city of like 11 million people."
The educational program he worked for gave Powers, U.S. embassy staff and other American educators two weeks to leave. Before March was over, Powers had left Columbia on the last flight in or out of the country for the next six months.
Back in Minnesota that spring, he had plans to teach in Bangladesh, but the pandemic upended that decision. Instead, Powers formed a neighborhood learning pod and began thinking about how to spend his time. Comedy crossed his mind.
"I've always loved it," he says. "I've listened to it, and dreamed of being a stand-up, since I was in grade school."
After making birthday goals, Powers downloaded an audiobook on writing stand-up by well-known New York stand-up instructor Stephen Rosenfield, whose alumni include Jim Gaffigan and the creators of the Comedy Central show Broad City. During a break in his 310-mile PCT practice hike along Minnesota's Superior Hiking Trail, Powers emailed the book's author and asked him: If he came to New York, could he meet and learn from him?
Fortunately, he didn't have to go anywhere. The instructor was starting up a series of Zoom-based classes, and Powers signed up. After two weeks of courses in October, Powers participated in a November YouTube Live show and began performing on other online shows across the United States.
Eventually, he found the "Ember Open Mic," a Zoom-based comedy show produced weekly by Bellingham Entertainment—a local stand-up comedy production company created by Upfront Theatre members Nathan and Cecilee Romano.
"I was so impressed by the room," Powers says, of the local virtual mic. "Every other comedy room was just so depressing—other comedians performing to other comedians and nobody paying attention—and that just totally destroys your confidence as a new comedian."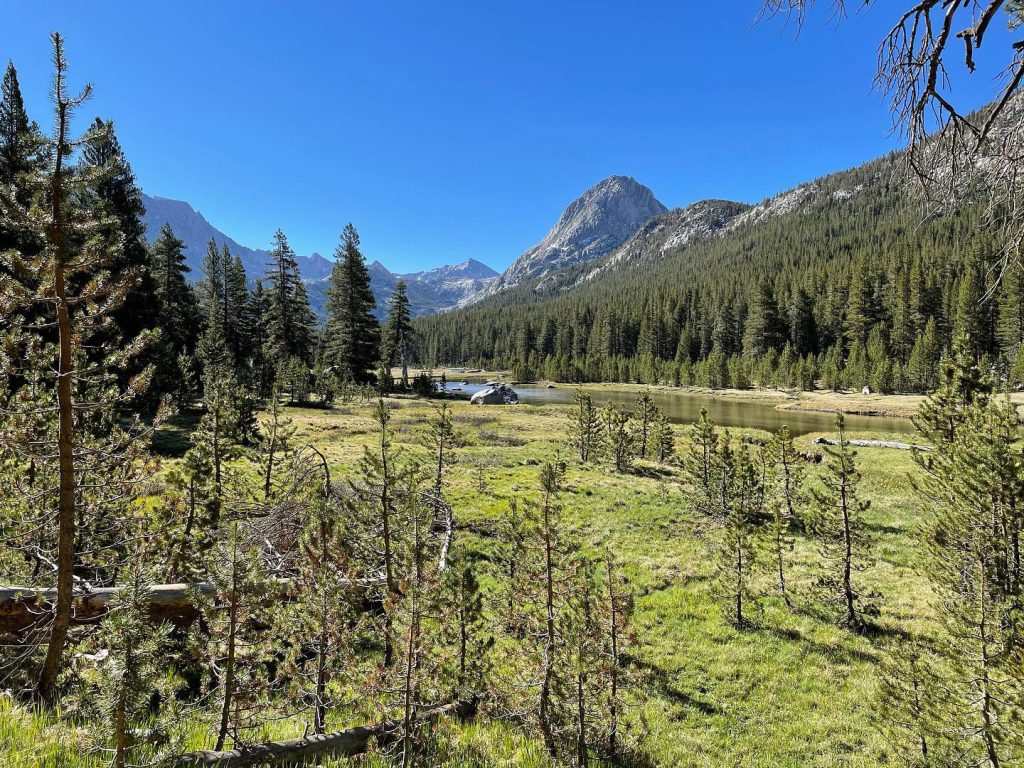 Ember had a real audience, and it gave Powers the confidence he needed. After a month of mics, he told the Romanos about his PCT plans, which would coincidentally end less than 100 miles east of Bellingham. They agreed to help Powers organize his first headlining comedy shows.
Step by Step
After a few Minneapolis open mics, hiking preparations, a visit to his girlfriend in Columbia, and receiving the COVID-19 vaccine, Powers flew to Los Angeles in April to meet his brother, who drove him to the beginning of the PCT along the U.S.-Mexico border.
Powers then hiked 20 to 30 miles nearly every day, from the lowland desert of Southern California, through the Sierra Nevada mountain range, and now into the Cascades of Washington. He met tons of people along the way—in fact, Powers only camped alone twice in his first 125 days on the trail—and also tried to entertain them.
Using a somewhat silly-looking inflatable microphone, Powers performed numerous trail shows as a way to stay engaged with stand-up comedy and prepare for his Bellingham shows. Early on, he performed every night, leading to a magical performance at Grumpy Bears Retreat in Inyokern, California.
A place featured in the movie "Wild," Powers found himself at Grumpy Bears in front of 50 people, on an evening where the facility fortuitously lost power.
"The only form of entertainment was me," he says. "I kept people engaged the entire 20 minutes. People laughing from beginning to end. It was one of the coolest moments I've ever had."
At other moments, Powers has found himself taking time off, and then bombing, as every comedian inevitably does. He says he tries to practice his bits while hiking with people—some of whom are frequent enough companions to become known as a 'trail family.'
The benefit of a trail family, Powers says, is that you're having fun with like-minded people. The downside is that they really don't want to hear your same jokes every night.
"I was like the only comedian to get paid to not perform," he says with a laugh. "They're like, 'Dude, we'll give you extra Clif Bars if you just stop doing jokes and bits.'"
Despite hiking the entire PCT in a year marred by COVID-19, heat waves and wildfires, Powers says he was lucky with weather and had few setbacks. Although the pandemic may alter the presentation of his Bellingham shows, Powers says Bellingham Entertainment has multiple contingencies for keeping both audience and performers safe, including holding the shows outdoors if necessary.
Combining his epic hike with stand-up, he says, amped up the emotional nature of his journey, making the usual assortment of physical, logistical, and mental challenges bumpier at times. Some days, he says, it felt as if he would never finish the hike, and other times, he questioned how he'll process finishing it and returning to normal life.
But Powers also says he sees the correlation between his goals of hiking the PCT and pursing stand-up. They are both connected by the need for persistence—by, as he puts it, being a candle in a storm, not wavering through the many ups and downs.
"No one ever asks you to do the Pacific Crest Trail," Powers says. "Most people can't even conceive how long, big and hard this is. I might have the best day in the world on a Monday, and then the worst day of my life on a Tuesday, but it's just about picking up, gathering all your stuff, and continuing on. It's very similar to comedy. You write 10 jokes—you're so proud and confident in all of them—but only one of them is funny. You have to just keep going when you fail."