Published August 2019 in WhatcomTalk.com
Somewhere in the archives of Lincoln, Nebraska's National Museum of Roller Skating, there's a photograph of Ray Moore and Rich Tawes. The two Whatcom County men are 49 years removed from the picture of their former selves, but they haven't forgotten what the image depicts: their contribution to a national championship in the sport of roller hockey.
In August 1970, Moore and Tawes were 20 and 21, respectively, and part of the Bellingham Bruins, a local eight-man roller hockey team. Their national title came at a time when Western Washington had some of the country's best teams: squads in Bellingham, Burlington and Olympia made annual visits to the sport's national tournament in the Midwest, and were always a deciding factor in who took home the hardware.
While any significant sporting achievement is usually celebrated with pomp and circumstance, this one wasn't. Although the team got their picture in the Bellingham Herald, their accomplishment went mostly unnoticed and, over time, unremembered.
"When we won, it was only us," recalls Tawes. "There were no fans; we were amongst ourselves."
Humble Beginnings
Moore, now 69, and Tawes, 70, roller skated for decades. A lifelong Bellingham resident, Moore began at age 4. By 5, he'd finished second in a statewide speed skating competition. In 1958, his older brother helped set a speed skating world record for distance. In 1966, Moore competed in a national speed skating competition and finished tenth.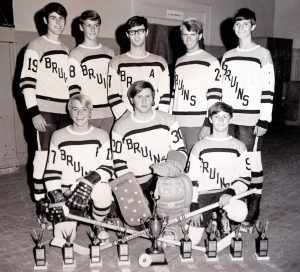 Tawes grew up on a Ferndale farm, learning to skate at a Pioneer Park roller rink when he was 11. Like Moore, he initially focused on speed skating. Tawes graduated from Ferndale High School in 1967 and Moore from Bellingham High in 1968.Their participation in roller hockey—a sport identical to ice hockey except for one less defensive player, a smaller rink, no boardchecking, and wheels instead of blades—came about rather unintentionally.
Around 1967, the Bellingham and Ferndale speed skating clubs held combined practices at each other's rinks. At some point, several skaters found brooms and began knocking around a small ball. Eventually, they swapped the ball for a bunch of coffee cup lids stuck together, forming a crude puck.
"The speed skating coaches saw that we were having some fun, and if nobody else wanted the rink to skate at, [so] it was all good," Tawes recalls. "We were improving ourselves by messing around."
Finally, someone brought real hockey sticks, and the boys began learning the rules to roller hockey. Bellingham didn't have enough players to form their own team, but other teams in Western Washington had already formed in places like Burlington, Everett and Olympia. They competed against each other in a Northwest league, which featured teams down the I-5 corridor all the way to Portland.
In 1968, three Bellingham-area players—Moore included—joined Burlington's team and wound up competing in a national championship tournament in Lincoln, Nebraska. They finished second.
"We pretty much dominated," Moore says. "The only team we lost to was Olympia."
In 1969, several Bellingham players again went to nationals with Burlington, this time winning the championship, but Moore was not among them. By 1970, Bellingham finally had enough players to form its own roller hockey team. Despite this, the sport wasn't locally popular, Moore says. Those who weren't part of local skating clubs knew little to nothing about it, and Moore's high school classmates had no idea he played roller hockey.
The Big Moment
The national tournament saw 17 of the country's best teams—several from each division—duke it out over multiple days. Moore and his brother drove to the tournament from Florida, after visiting their sister. Other players carpooled all the way from Bellingham. The Bruins were also competing in their first national tournament without help from coach Dave Berg or manager Gene Billman, who were unable to attend.
Despite long travel and no coaching, Bellingham lost just one game at the tournament, against a team from Maryland. The Bruins overcame two penalties in a match against Olympia, with Moore—the team's left wing—scoring a crucial go-ahead goal. In the end, Bellingham and Burlington both had the same tournament records and had to square off in a sudden-death tiebreaker for the championship.
During the tiebreaker, held around midnight, Jim Stevenson made a long-distance slap shot to score the winning goal. Moore recalls being so excited that he damaged the low ceiling above the rink.
"I didn't know I'd done it," he says. "I went over and grabbed Jim, and we had a big celebratory pile-up. And then the referee came up to me, handed me my hockey stick and said it was stuck in the ceiling. It was pretty exciting."
Having to beat another local team for the trophy was the ideal scenario, Moore says. Bellingham's win gave the three Northwest teams titles in consecutive years. Moore was credited with 14 goals during the tournament, and Stevenson with 10. Goalie Ron Perry just missed being awarded Most Valuable Player, though both Moore and Tawes—Perry's defensive support—insist he was probably most pivotal.
Going Back Home
When the Bruins returned to Bellingham, a team photo appeared in the Bellingham Herald within several days. That was the extent of their public recognition. Moore, wanting to do other things in life, quit roller hockey. Tawes and other members of the Bruins went back to nationals in 1971, finishing third behind Olympia and Burlington. The latter teams continued dominating the tournament for much of the decade.
The Bruins might have kept going, but player turnover, as well as disco music overtaking roller rinks everywhere, signaled the team's end. In 1989, the rink the Bruins once practiced on, located inside the old Armory building at Western Washington University, closed. The location of the Bruins' championship trophy is uncertain, though Moore and others hung onto their individual trophies.
It seemed none of the former Bruins would play roller hockey again, but the 1999 opening of a Burlington roller rink gave them another chance. Moore and Tawes, along with other men in their 40s, 50s and 60s, formed a team, continuing to play until 2014. They often beat men much younger than themselves.
Of the eight players from the 1970 title, six are still alive. Moore, Tawes and Mark Friedl are the only members who've remained in Whatcom County. After the Bruins, Moore speed skated and played ice hockey, raised a family, and retired from the local Georgia-Pacific paper mill after 40 years. He has two children and three grandchildren. Tawes got married, had two kids, and today has two grandchildren and four great-grandchildren. His great-grandson has also played roller hockey. Tawes also kept speed-skating, finishing second in a national competition for his age group in 2005.
Today, neither man is sure why a small group of young men, in a small corner of the world, was so good at roller hockey. But the two are quick to reminisce on the championship of their youth, and they're happy to remember it. Even if no one else does.
"We just had finesse," Moore says. "We just had something on the rest of the nation, for some reason. It was cool."